An Introduction of Swing Check Valves
Posted: 08/23/2017 09:08:49 Hits: 40
A
check valve
is divided into the
swing check valve
(rotating around its center of gravity) and the lift check valve (moving along the axis). The
check valve
is one kind of the automatic valve, mainly used for preventing the black flow of media, the leakage of the media from containers and the inversion of pumps and drive motors. Furthermore, the check valve can be used for the pipeline supporting assistant systems with pressure higher than the system pressure.
In order to ensure that the valve clack can reach the proper position of the valve seat's surface, the valve clack is installed in the articulated mechanism. Thus, the valve clack can have enough work spaces and the contact with the valve seat. According to different performance requirements, the valve clack is able to be made of metal completely. Meanwhile, the swing check valve can also adopt leather and rubber embedded in the metal surface and the synthetic covering surface.
The liquid pressure of the fully opened
swing check valve
is unlimited. Thus, the pressure drop of the valve is relatively small.
Like the globe valve, the flow channel of the lift check valve which fluids pass through is also narrow. Therefore, the lift check valve obtains higher pressure drop than the
swing check valve
, and the flow of the
swing check valve
is less limited.
The
swing check valve
is also called the one-way valve or the rebound valve. The valve is used to prevent the back flow of the media in pipelines. The disc of the
swing check valve
is opened and closed by the flow and the pressure of the media. Moreover, the
swing check valve
is mainly used for pipelines with media flowing in one direction. In order to avoid accidents, the swing check valve is operated to permit the media flowing in only one direction.
With different materials, such as WCB,CF8(M),CF3(M),1Gr5Mo and 15CrMo1V, the
swing check valve
can be used for water, stream, oil, urea, strong oxidizing media, etc.
Furthermore, the
swing check valve
is not suitable for media with solid particles and high viscosity, and is mainly applied to pipelines in the fields of petroleum, chemicals, pharmaceuticals, fertilizer, electric power, etc.
Nominal Pressure: PN1.0 MPa to 42.0 MPa, Class 150 to Class 2500
Nominal Diameter: DN15 to 1200mm, NPS 1/2 to 48
Working Temperature: -196℃ to 540℃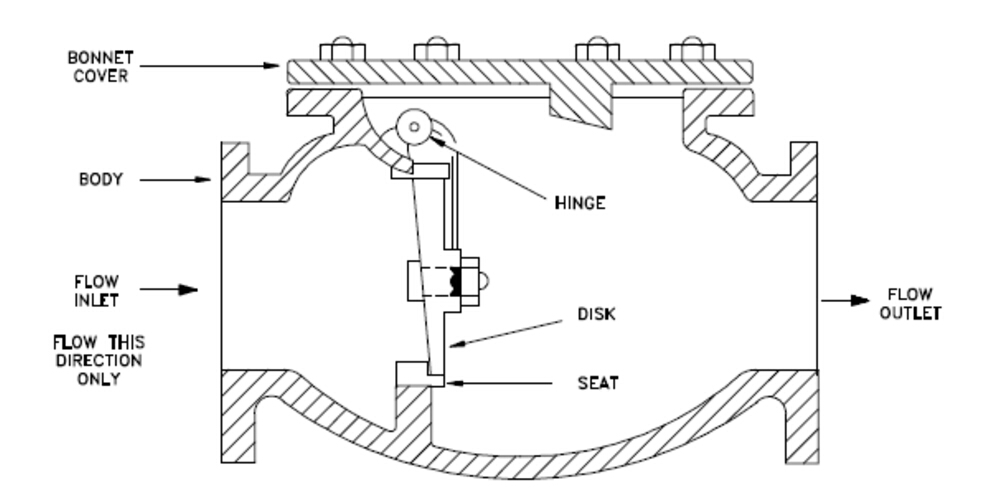 NO.2013 Valves catalog download

View and download valve product literature, sales brochures and more.

read more >>